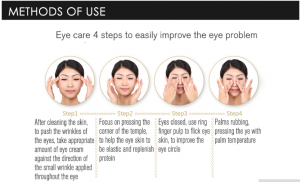 1. After cleaning the skin, to push the wrinkles of the eyes, take appropriate amount of eye cream against the direction of the small wrinkle applied throughout the eye.
2. Focus on pressing the corner of the temple to help the eye skin to be elastic and replenish protein.
3. Eyes closed, use ring finger pulp to flick eye skin, to improve the eye circle.
4. Palms rubbing, pressing the ye with palm temperature.
you can also visit our product which is quite similar and good
here